Recommended books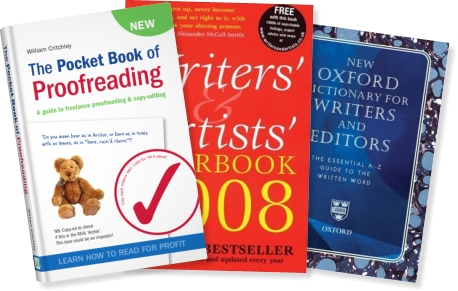 One of the best books you will need if taking the Learn Freelancing new Proofreading & Editing Course is the New Oxford Dictionary for Writers and Editors: The Essential A–Z Guide to the Written Word.
This book is superb and indispensable for writers, journalists, editors, copy-editors and proofreaders, and anyone else connected with words
(about £10.00 from Amazon).
The Writers' & Artists' Yearbook is another book that has lots of good information to help copy-editors, proofreaders and writers.
For addresses and contact details of hundreds of publishers using freelances for freelance proofreading work, you will at some stage need a recent copy of The Writers' & Artists' Yearbook (available on Amazon and also from all public libraries). You'll find a useful list of proofreading marks plus a selection of articles of interest to freelance proofreaders, editors and writers in general. Note: some time I'll find the time to update the Yearbook cover at the top. It's basically just the same in 2019. [To see, click here!]

Last, but not least, you'll need The Pocket Book of Proofreading!
Read about this book (and how to get it) elsewhere on this site.
If you have enjoyed reading and learning from The Pocket Book of Proofreading, please send in your comments as soon as you can.